I am sorry to say but his (Lt Col Srikant Purohit) plight is worse than even Kulbhushan Jadhav who too was wrongly implicated as a terrorist but this happened in Pakistan and not in India which is his own country! Not one or two or seven but seventy six Army officers who had served with him earlier testified to his being an upright and committed officer but India trusted Mumbai ATS who are notorious for wrongly implicating innocents and here they didn't spare even an honest and committed Army officer like Lt Colonel Srikant Purohit! What has happened with Lt Colonel Purohit should not happen even with a terrorist! Even Nasik Police Chief whose jurisdiction extended to Malegaon had commended Lt Col Purohit for actively working to expose terrorists funded directly from Pakistan! Can all this be dismissed lightly? NIA too it must be said with dismay has not crowned itself with glory by keeping quiet for 9 years which is a very long time!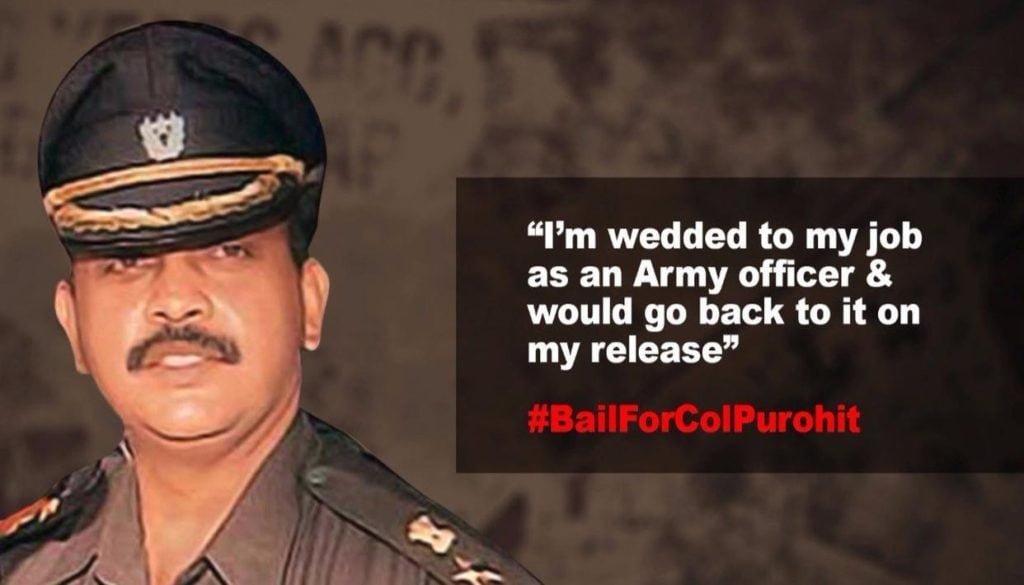 Needless to say, Lt Colonel Purohit was regularly informing his superiors in Army informed about what all he was doing yet NIA didn't care to listen his version properly! Is it a coincidence that Mumbai terror attack of 26/11 happened just months after his arrest? Why such a senior Army officer was treated so shabbily? Why when he was working to expose those who supported terrorism locally was he himself arrested, tortured and branded a terrorist and for 9 years not a single evidence was produced before any court? All this must be investigated impartially and truth must come out! The bold Army officer who was the only one to help Mumbai ATS in falsely implicating Lt Colonel Purohit and get him arrested breaking all norms and who has not produced a single shred of evidence in any court even after 9 years must be taken to task and not allowed to go scot free!
Let me be direct in asking: Who will compensate him for the 9 years that he, his wife and his children have suffered endlessly? There can be no compensation that can compensate for the terrible sufferings he and his family had to undergo! I am sorry to say but even Army has not held his hand when he needed it most and this is the worst tragedy! However, I am extremely happy to note that one of the most reputed lawyer of our country – Harish Salve has taken up his case and has ensured that Lt Col Purohit got bail after being in jail for about 9 years! I am sure that now at least he will get justice from the highest court!
Be it noted, Supreme Court had reserved its verdict on a plea of Lieutenant Colonel Shrikant Prasad Purohit seeking interim bail in the 2008 Malegaon blast case after Bombay High Court had earlier dismissed his bail plea. A Bench of Justices RK Agarwal and AM Sapre said it will pass an order on the plea. During the hearing, senior advocate and former Solicitor General Harish Salve who just some months back had successfully defended Kulbhushan Jadhav in ICJ said that he has been in jail for the past nine years but charges have still not been framed against him! He said the MCOCA charge has already been dropped against him and therefore he is entitled to get interim bail! Our whole judicial system should be ashamed that a serving Army Officer is designated a terrorist by Mumbai ATS but for last nine years no charges have been framed against him! This itself is the strongest testimony to prove that how strong case Mumbai ATS has against Lt Col Purohit!
To put things in perspective, while seeking bail in the 2008 Malegaon blasts case, Lt Col Shrikant Purohit made it clear to the Supreme Court that he was caught in a "political crossfire" and was falsely implicated. But the NIA while opposing his plea accused him of running Abhinav Bharat which NIA alleged is an outfit promoting fundamentalism and unlawful acvtivities. One is tempted to ask here: Why Hurriyat leaders who openly rant against India, chant anti-India slogans, indulge in unlawful activities and get funded hugely from Pakistan due to which they have amassed huge money empire and purchased properties all across the country have not been sent to jail for 9 years as we see in case of Lt Col Shrikant Purohit? Why those Hurriyat leaders who had a hand in murder of Kashmiri Hindus when they fled Kashmir in lakhs way back in 1989 were all released from jail and till now they are roaming scot free?
Anyway, coming back to Lt Colonel Purohit's case, his senior counsel Harish Salve contended that the officer attended meetings of Abhinav Bharat as an "Army mole" and was not involved in terrorist activities. He rightly said that there were "big holes" in the probe which is why another accused Pragya Singh Thakur was granted bail. Harish Salve made a strong case for bail to be granted to Lt Col Purohit by pointing out that, "My client has been in jail for nine years but charges have not been framed. Since 2001, he has got numerous recommendations (as intelligence officer). I am not asking for discharge but give interim bail after nine years of incarceration till framing of charges in the case." He also pointed out that Purohit had informed seniors about meetings of Abhinav Bharat and there were infirmities in the probe conducted by the Maharashtra ATS and NIA. Why then Army has not firmly stood behind him is most baffling!
Not stopping here, Harish Salve said on behalf of his client that, "The allegation against me is that I supplied explosive material on the conspiracy hatched by Sadhvi Pragya Thakur. Now if she is enlarged on bail and given a clean chit by the NIA, then the link between me and her is snapped." Salve also rightly pointed out that, "My client has got himself caught in political crossfire. He has been in jail for nine years but still he is serving in the Indian Army. Since 2001, he has got numerous recommendations for infiltration. From an unsung hero, he has been now called an incarcerated hero." If he was a terrorist would he still be serving in the Indian Army? Would he not have been dismissed? Did he not pass all information about activities of Abhinav Bharat group who allegedly masterminded Malegaon bomb blast on September 29, 2008 in which seven people were killed to his seniors? Have his seniors not testified about it? Still why he is being made the scapegoat? Why was he arrested at the first place? Why he was kept in illegal detention?
Simply put, while denying his involvement in the incident, Purohit told the court that even assuming that the charges that he had supplied the bomb were true, even then he would have to be out of jail as the offence attracted a maximum of seven years imprisonment. Why is he still in jail after nine years when no charges have been proved against him and even a chargesheet has not been filed against him? Why his arrest was not carried out as per procedure? Why he was deceived and then arrested by another Army Officer who it is alleged had even tortured him and till now has not produced even a single shred of evidence against him? Why Lt Col Purohit has been made to suffer so much that he is in jail for nine years even though the maximum term for the offence for which he was charged was just seven years? Who are the powerful forces who are not allowing truth to come out? Why should their questionable conduct not be probed?
There are many unanswered troubling questions that must be answered: Why NIA had to file a separate chargesheet stating that ATS had planted the RDX found from Purohit's house? Why ATS planted RDX found from Purohit's house? What does all this prove? Why ATS was hell bent in implicating Purohit as a terrorist? Was it at the instance of some political party? This itself shows that there is a political angle to it also which merits no a thorough probe! Why MCOCA charges were also dropped? Why it has taken 9 years for the case to move at snail's pace and still till date no charges have been framed against him as Harish Salve has pointed out? Truth must come out finally!
It is a national shame that some news channels even before the case is finally pronounced by the Courts not just labelled him a "Hindu Terrorist" but also leveled many other serious charges against him and they have not been able to substantiate it in any court! These very news channels had no compunctions in inviting Pakistani invader Gen Pervez Musharraf and honouring him knowing fully well that he had masterminded the Kargil war in which we lost more than 600 soldiers! The negative hype created by various news channels against him was just not done! It certainly served to tarnish his image because very few know the real truth! Additional Solicitor General Maninder Singh while appearing for the National Investigation Agency (NIA), said there was some evidence against him which would help in framing of charge! Even an illiterate person will have the common sense to ask: Why no charge framed against him for 9 years if there was evidence against him?
For nearly nine years a serving army officer of the armed forces and that too of the intelligence wing was made to suffer all sorts of humiliation along with jail and yet not even chargesheet has been filed against him leave alone trial being started! Is this the way a nation treats its officers? What message is being sent to future aspirants who want to join the Indian Army?
It must be asked: If there was an open and shut case against him as those who arrested him projected then why after nine years they have not been able to even file a chargesheet and why they have not produced any evidence before the court? How can any person leave alone army officer be made to wear the tag of a terrorist without giving him any opportunity to defend himself in last nine years? Why the Mumbai ATS did not frame charges for 9 years if they had evidence to prove that Lt Colonel Purohit is a terrorist? Why RDX was planted in his house as NIA alleged?
It must also be asked: How long will police keep the nation waiting? Who will be responsible if it is found that there is no evidence against Purohit and others? Why a UN report which mentioned that a Pakistan based terror group was responsible for the terror attack yet Purohit who as intelligence officer was providing information on terrorist was himself implicated instead? Why no evidence has been produced against him?
Why even a bench of Supreme Court comprising of Justices FMI Kalifulla and Abhay Manohar Sapre said that, "There was no concrete evidence to show their involvement in any other criminal case and the trial court should decide their bail plea on merit, preferably within one month"? Was it just for fun that two Judges and that too serving judges of our highest court – Supreme Court are saying that there was no concrete evidence to show their involvement in any other criminal case? Why Supreme Court said there was considerable doubt about the involvement of those charged under the MCOCA?
Why trial court didn't decide their bail plea nearly nine years back and why Lt Col Purohit was made to suffer along with Sadhvi Pragya Thakur in jail where their health deteriorated thus grossly violating their legal rights? What was the compelling circumstance that police decided to keep a serving army officer of the rank of Lt Colonel in jail for nearly nine years without producing any evidence against him in any court? This itself proves that there is more to it than meets the eye and his arrest along with others was done as part of a grand political conspiracy to keep the ruling elite happy and to be on their right side!
Why for nearly nine years Lt Colonel Purohit was not shown even the army documents which he had a right to see? Why it is that only after the ex Defence Minister Manohar Parrikar himself personally intervened to make it clear that the main accused in the Malegaon and Samjhauta blasts, Lt Col Prasad Purohit, would be given access to documents he had sought to enable him to prove his innocence? Why was he denied even his basic legal right for such a long time? Who were those army officers who didn't want that he should be shown any documents and why? They must explain!
Let me also be direct in asking: Why such a senior army officer of the rank of Major General and having an impeccable reputation whom we keep listening in most of the news channels speaking always about defence and our national interests - GD Bakshi keeps crying foul on the ghoulish manner in which Lt Colonel Purohit was falsely implicated and he was made a fall guy while the real culprits were allowed to run away? Why so many other Army officers 76 who had earlier served with him have all hailed him as "a man of courage, conviction with firm uprighteousness"? Are they all speaking lies and only Mumbai ATS and one odd Army officer who falsely implicated him and who has kept quiet for 9 years by not producing any evidence in any court speaking truth? Why RSN Singh a retired officer of RAW whom again we keep listening in various news channels talking always about our national interests writes in his cover story titled "Col Purohit : A Victim Of Hindu Terror Industry" published in Uday India magazine dated March 22, 2014 that, "It is a travesty to paint Purohit as the Indian Osama Bin Laden. Going by the selective and flip-flop leaks by the Anti Terrorist Squad (ATS) of Maharashtra, and the manner in which the media is lapping it up, it appears that there is a concerted bid to make an 'Osama bin Laden' out of Lt Col Purohit, and prove that Sadhvi Pragya and her accomplices are the new 'Hindu jihadis'. The credulity of the general public is being stretched on various scores. Firstly, the speed at which fresh revelations are being disseminated by the ATS, is in complete disregard to professional propriety. Secondly, the unprecedented number of narco tests the accused are being subjected to. Thirdly, there is a total blankout with regard to the version of the accused. Fourthly, with every passing day, the network is being enlarged; as if to suggest that the entire country is being consumed by 'Hindu terrorism', and has pan-Indian dimension. Fifthly, if intercepts of some of the accused were available prior to the blasts, why were no pre-emptive measures taken? Sixthly, no army representative has been included in the interrogation team. Seventhly, the most intriguing aspect is the timing of the investigations—on the eve of elections."
Truth be told, Lt Col Purohit claimed that he had been framed in the Samjhauta blasts while he had successfully infiltrated various terror groups such as the Indian Mujahideen and the SIMI. He said with tears in his eyes that, "I have been robbed of honour, dignity and rank and punished for serving the nation". What a tragedy that Indian politicians go out of the way to invite Pakistani invaders like Gen Pervez Musharraf who masterminded Kargil war in which we lost officially more than 600 soldiers and treat him like a royal emperor but care two hoots for Indian officers like Lt Col Purohit who at the risk of their own lives penetrate inside enemy camp only to be themselves labeled a terrorist! Captain Saurav Kalia was brutally tortured by Pakistani soldiers and terrorists but Lt Col Purohit is even more unlucky as he was tortured most brutally not for just 22 days but for nearly 9 years to force him to give a confession not by any Pakistani army or terrorist or ISI but by Indian police, Indian intelligence and all donning uniform of India which is his own nation and not Pakistan! Kashmiri separatists leaders openly rant against India, wave flags of ISIS and Pakistan, are known for their proximity to terror leaders but yet they are not arrested but an army officer with a distinguished track record like Lt Col Purohit is arrested and kept in jail without even filing a chargesheet for nearly 9 years! Disgusting!
Anyway coming back to the main subject, incidentally, NIA Director General Sharad Kumar had clarified that Lt Col Purohit was never an accused in the Samjhauta blasts case. However, he had been charge-sheeted by the Mumbai Anti-Terrorism Squad in the Malegaon blast case, and the NIA was investigating the matter. Does it take nine years to file chargesheet?
I am hundred percent convinced that he is not a terrorist rather is "a victim of most dangerous political conspiracy hatched up in cahoots with some senior police officers and some in the army". If there was even an iota of proof against him that proof would not have been taken to any temple for some havan or puja for nearly nine years but produced before the court! Just because a person sets up an organization or even has hardline views is no ground to send him to jail and keep him languishing there for nearly 9 years without even showing him the chargesheet and without producing him even before the lowest court!
You can dismiss what I say lightly but certainly not what Supreme Court says or a senior army officer of the stature of Gen GD Bakshi or a former RAW officer Col RSN Singh or 76 Army officers says and whom we always love to hear in various news channels because they always speak keeping in mind our national interests first and not any regional or religion interest first! Even the seniors of Lt Col Purohit confirm him as "over zealous officer" and profusely praised him but in his bad days he was left in the lurch to suffer all alone by himself with no one standing near him to defend! If this is the way in which an intelligence officer is treated for doing his duty who will like to take risk only to be himself labelled a terrorist? This is terrible!
Justice must not only be done in Purohit's case but also seen to be done! By not filing even a chargesheet in last nearly 9 years several questions have been thrown up and all those who are responsible for this needs to be taken to task! NHRC must itself also investigate the matter and all those who tortured Lt Col Purohit must themselves be sent behind bars and taken to task for their misdeeds and misdemeanours! What Lt Col Purohit's family is bearing and what he himself is bearing that only they themselves can understand best! Punish them with the strictest punishment if they are terrorists but facts on ground indicate otherwise! I have not seen one Army Officer speaking against Lt Col Purohit till now openly in any news channel not even that Army Officer who it is alleged was hands-in-glove with Mumbai ATS in falsely implicating him because of the personal grudge that he held against him! Why deafening silence? It is because there is no strong case against him!
I am sure Supreme Court will consider all facts on the ground and deliver justice to Lt Colonel Purohit by granting him bail! Nine years in jail for a serving Army officer without dismissing him or producing any evidence against him and not even filing chargesheet against him for 9 years speaks volumes of how strong the case is against Lt Col Purohit! The jury is still out! Let's wait and watch what happens! Truth must prevail! This case is not just of Lt Col Purohit alone! This is attached directly with Army's impeccable reputation which has unnecessarily been sought to be damaged by those having vested interests without producing any hard evidence for 9 years and worst of all, by not even filing any charges against him till now! President must himself directly intervene and make sure that justice is done with this senior serving Army Officer who is still in service but was framed in most questionable manner and tortured most ruthlessly as he himself candidly acknowledged also while speaking to journalists after getting bail! He is still proud to have joined the Army as an officer to serve this nation. President is the supreme commander of Armed forces and he must speak up just like former Defence Minister Manohar Parrikar had spoken up! Let's hope for the same so that this serving senior army officer gets his honour and pride back at the earliest!
Sanjeev Sirohi